Update 3 – May 24 – 29, 2023:
May 24: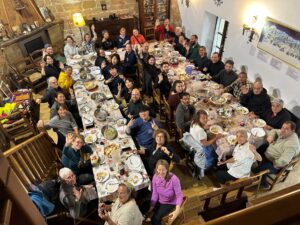 Before setting off with my new Camino Group on my 8th day there was the insurmountable hurdle of getting up. I had a good sleep but was still very tired. I would have stayed in bed if I didn't plan to meet up with Chantal, Victor, and Nick, or if the group of South Koreans hadn't made soooo much noise. Everything hurt and the morning walk was brutal, what was more, there was no cafe open until I made it to my goal for the day. 22km walking with nothing but Oreos covered in white chocolate which I bought the day before. At the 15km mark we got to Santo Domingo de la Calzeda where a rooster is held in the Cathedral. There is a story around it where a child was sentenced for a crime and the ruler passing the sentence said something like this child is as guilty as this chicken on his plate was dead. At that moment the chicken got up and flew away. If the rooster crows when one walks in it is a sign of good luck, needles to say there was dead silence upon my entry. We explored the Cathedral and meant to go on, but my feet were killing me so I decided to see if the shoe store we passed just before had opened. When we passed it, it was almost 10, though the hours sign said they'd open at 9:30. I got lucky and bought some shoes before sprinting down the last 7km. The goal for the day was an albergue run by volunteers in a church. Bare bones but it's supposed to be an experience. The moment we entered the volunteers, 2 ladies in their 40s or 50s came up to us giving us hugs and kisses and welcomed us to the space up in the church. Our beds are thin mattresses on the floor below the ceiling, one wall away from the beautiful church, in my opinion much nicer than the cathedral visited earlier and with much more character. There is no internet, but there are instruments to play on and many people to talk with. The cost of a night's stay is donativo, so you pay what you can, or you can take money out of the cash box if you're in need – no questions asked! The rest of the day brought lots of socializing with it with lots of people from across the globe. The work including cooking, doing the dishes, getting bread from the bakery, and making desert was all shared by everyone. Before dinner we then attended the church service and received the pilgrim's blessing after. Setting the tables for all 40 or so of us was a well thought out process where everyone was involved again, same with the clean up as well. As we ended the meal and finished clean up, we were herded back into the church for some reflection time. We were up high on a balcony at the far end of the church, the beautiful golden art behind the altar illuminated and surrounded by candles we sat in silence for a few minutes before sharing thoughts about our journey in our respective languages. A French pilgrim who just hit the 1000 km mark of his pilgrimage from Le Puy, France stood up and began singing a French song about love in a wonderful voice, which was carried through the massive stone building to resonate magically. What a profound moment. Afterwards some of us sat in a circle, grabbed the guitars and began singing songs such as The Proclaimer's 500 miles. This Albergue was established 27 years ago by locals, pilgrims and a group of Germans. Pilgrim's had stayed in this church for hundreds of years, but the official albergue status with added facilities was only then added. Anyone walking the Camino should try to make a stop here as this truly is a once in a lifetime experience.May 25: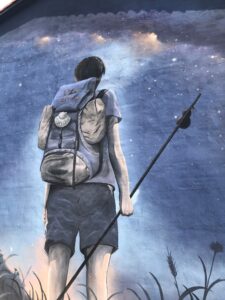 The morning started off with me hitting my head on one of the cross beams hard enough to delay my departure by one hour. I was worried about a concussion and definitely felt a bit lightheaded after. I let Victor, Chantal, and Nick pull ahead even though I might be able to keep pace with them now given my new shoes. When I eventually left, I ended up walking with a group of South Koreans and an American, all in their 20s, so I nicknamed them "the kids" and we had some fun conversations I haven't had in quite a few years, most of which were quite philosophical. We stopped at a cafe owned by a Colombian who charged way too little money and served amazing food, including yucca empanadas, good sized pastries with yucca, which is a little like potato, and cheese. We carried on until I got to the village, I wanted to stay in for the day at about 23 km while they carried on for another 4 km. I ended up at the highest rated albergue on the Camino according to Victor's app which happened to be run by a German couple, serving German food, and providing a proper bathroom. There weren't enough people for them to make a good German supper by the time I had to sign up at the other restaurant across the street though, so I ended up eating there with Victor, Chantal, and Nick. A little after me signing up, a Brazilian father, daughter duo walked in, and I had to now share mine with them. They spoke only Portuguese which is nowhere to be found in my language skill chest, so we had some simple conversations in Portuguese, Spanish, English, and Mime (lots of gesturing) and were able to find out a few things about each other such as that his son, or her brother didn't want to join and that the man who is 72 years old walked the Camino de Santiago pilgrimage in 19 days at the age of 63, which is an enormous pace for anyone, but especially for someone past their 30s. For more important things such as keep the door open, or the room will become very cold I opted to use google translate.May 26: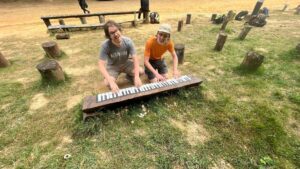 A late start was in the cards for today since I wanted to treat myself to a German breakfast which my hosts enjoyed with me just a few minutes before 7. It became one of the better breakfasts I had so far, and my Camino family of Victor, Chantal, and Nick was waiting after they took their breakfast around the same time at the albergue they stayed at. I was storming ahead with Nick today, while the other two began falling behind with some leg and foot issues. After some kilometres we came across the Camino Oasis, a place with various stomps, wooden benches, and little pieces of wooden art, all painted in a colourful manner with lots of humour. Behind some tables with baked goods, fruits, juice and coffee was a man with lots of energy "selling" everything on a donation basis. When Victor was getting a coffee, he tried to donate his small coins, 1, 2, and 5 cents, and a few bigger ones but received a friendly earful that he shouldn't use this opportunity to just get rid of his copper coins. At some point Victor was changing his shirt, a woman in her late 20s arrived at the same time and the guy who ran the by donation roadside stand began to cat call, whistle and doing some easy to enter prey dance motions. We weren't really sure if it was meant for the girl or Victor taking of his shirt, so it was either a very uncomfortable or a very funny moment. Our day finished unexpectedly at Atapuerca, when we saw the kids sitting by an albergue, waiting for it to open, Nick and I decided to wait for the other two to catch up to make sure they were ok since we didn't see them anywhere behind us. After a bit of waiting Victor and some time after Chantal arrived. As we waited, we learned about a nearby archaeological site with significant findings to human history, such as the earliest signs of cannibalism, so Nick and I decided to stay for a tour while the other two moved on to the next town after I made a phone reservation for beds there for them. I explored the village which had a beautiful old church, as they all do, and a massive biotope hiding behind it, unfortunately though there was only enough space for one of us to go on tour, so I let Nick take the spot. As he was gone, I was invited to the bar with a group of people mostly in their late 20s and some outliers. We got beers and after informing a local that a cat jumped into his car through the open window and appears to be eating food, he provided us with sausage, prosciutto and wine, we added some bread, cheese and wine from the grocery store and had a great snack. I declined their offer to stay in an AirBNB with them for two days in Burgos because I don't have the time and I felt like they're more on a pub crawl along the Camino than a pilgrimage which wasn't the purpose of my journey. Being part of that other Camino family for a few hours really made me miss my own in Victor and Chantal. When the tour was supposed to be over I excused myself and went back to the albergue to find Nick to go out for supper, we took in Sophie, the US girl of the kids as well who studies for her Master's in London, UK and I ended up providing translation services at the place we were for many other pilgrims since the person behind the bar only spoke Spanish. After our meal we found the pub crawler crowd on the porch, had a bit of fun and went off to bed.May 27: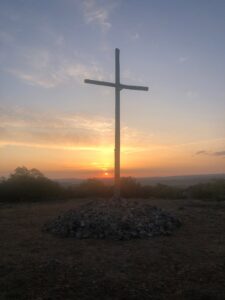 During the Morning march on the camino Nick and I came across a little tower with a bell from which a rope lead down to be tied to a little baker. A bell that was meant to be rung! It may be a most evil deed to ring a bell on a town square with residences surrounding it at 8am on a Saturday, but I was not going to pass up the opportunity and even made it out of the village alive. I rang it gently. Since it was a Saturday and the next sensible stop happened to be the city of Burgos, my plans to avoid partying locals in front of my accommodations lead me to plan for a 32 km walk past the city, but as it goes with plans, Nick and I began talking about keeping the foot off the Gas as Victor wrote us about his crazy pace and ambitious plans for the day. We met a lady going the opposite way, a reverse Camino, who recommended the public albergue in Burgos. With all that, Nick and I made our way for the albergue we thought she meant, but realized as we got closer that it wasn't the one. We accidentally set our sights on a monastery that hosts up to 20 pilgrims a day. Having completed our 20km pension for the day by around 10:40 am, we had some time to relax by the door in a shaded spot until it would open at 1pm. After a bit we were joined in waiting by Sergiy, a Ukrainian soldier from Odessa who is taking time off from the war to walk the Camino, and learned from a volunteer that there were rules and expectations if we were to stay at the monastery. The usual lights out at 10 pm, but also no getting up until 6:30 am, we were expected to participate at a church service at 7, and had to attend the blessing at 7:45. Then a communal dinner at 8 followed by a sharing and reflection time. You also weren't allowed to stay if you already had stayed in Burgos the night before, or took a taxi, train or bus today. There was also an emphasis on being quiet since we would be in a church where people pray throughout the day. That all sounded quite alright for us and we continued with the wait. Once open, we got settled before going into town to visit the cathedral and the museum of human evolution. I redressed my left foot which is beginning to become more blister than not. The right foot on the other hand is pristine, no issues! The redressing may have been a mistake since the pain I experienced on our outing became almost unbearable, and I have become quite pain resistant in the last week and a bit. We explored the amazing cathedral with countless chapels dedicated to various saints, almost every inch of the interior was decorated or carved. The pain however kept me from an excursion into the museum, so while Nick strode off to there, I got something for the swelling on my left foot and right shin, and slowly stumbled the kilometre back to the monastery, chocolate ice cream in hand. After a way too short rest we were called to church for mass, the expected 20 minutes turned out to be twice as long, but the pilgrim's blessing at the end was very special. This was my third pilgrims blessing, and while the others were group blessings of all pilgrims at once, this priest took the time to bless each pilgrim at a time, and he took some time for it as well. When he read out represented countries he paused and looked up after reading Ukraine with a strong sense of respect. Our meal after then became quite rushed by our hospitalero Jacques who initially told us to talk and be a community but then ended up trying to get us to eat faster and talk less since it got late and he liked order. What was odd was that they asked for dietary restrictions, but then completely ignored them anyway, and didn't even appear to know what a term like vegan even meant. Serving up to 20 people a day that is almost a remarkable achievement. I am lucky enough to be able to eat everything, and it was delicious, but the group felt quite bad for those who couldn't. After the meal we had some talk, and by we I mean Jacques, about what it means to be a pilgrim. He managed to slide way too many self glorifying anecdotes into his spiel and left a weird impression of him. Throughout the day he already attempted to promote his Instagram account many times, but this time he really put on a thick layer of narcissism. Then off to bed!May 28: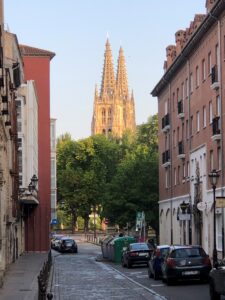 At 6:30am calm church music sounded through the dorms, and we got to breakfast at 6:45. I found an opportunity to chat with Sergij after breakfast, which turned into a very emotional conversation about the state of his country I won't forget for a long time. He also lectured me to shorten my days or the swelling on my shin will become an even bigger issue. We said our goodbyes and I promised to keep it light, planning to keep my daily mileage at 20 km for the next while. With my new pills against the swelling Nick and I took off. My foot was behaving and pain relatively low, though the swelling increased toward the end of the day's walk as usual again. At our first stop in a village after 12 km, we ran into a French girl we knew from the communal albergue in the church, Aureli. I also had a short encounter with her at the store I bought my shoes, she stormed in asking for masking tape and was informed that there wasn't any, she mumbled about going all the way to the town she would stay at without it and I told her "hey, it's only 7 km from here" she became all smiles and jumped up from joy at the news before leaving the store. She had taken a day off in Burgos to deal with an infected tooth. She got some quick emergency work done by a dentist who was technically off but came in to help her. The issue isn't resolved but rather dealt with until she can get it done properly at a place where she will be for several days, so likely Santiago. Equipped with care instructions and pain medication she went on to continue her pilgrimage which was initially planned as just a ten day walk. Nick and I eventually stopped after 20km at noon in Hornillos at a place Victor recommended with supposedly great Paella. The man running the albergue also me an ice pack to cool my shin, and while I had that tied around my leg I spent the afternoon talking to some people, including a 45 year old Saskatchewan man, and accidentally having a short nap. Getting up from my nap, I noticed I wasn't the only one and the snoring around me gave me a taste for what the night ahead will bring. For lunch I ended up paying as much for a tiny salad as Nick did for an absolutely massive salami sandwich. Taught me a lesson for trying to eat healthy. Dinner was at the Victor famous Paella (he hyped it a bit too much) with good, light conversation. Nick and I kept talking into the night a bit, knowing that this would be our last chance to do so since he will go back to his pace while I'm going to slow down more, keeping to shorter and slower days until the swellings subside.May 29: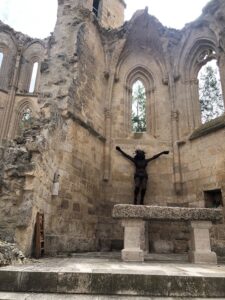 This morning was a tough goodbye with Nick who left a bit before me. It was a little by design that I wouldn't briefly run into him if he took an uncharacteristically early break. I began at a very slow pace, and being overtaken by some older fellow pilgrims became a humbling experience, but also an incredibly nice one. People aren't shy to ask how one is doing and offer help in many forms. This is true for the whole camino, if one dares to step off the way there's always a local somewhere shouting the right direction, though sometimes a pilgrim wants or needs to go off the path which can result in wild long-distance gesturing to calm the concerned local. The first town I got to, Hontanas was almost car free. I read that it used to, there are some small gravel parking areas outside town since there is no space for cars in town, but now people can at least drive into it for delivery or emergencies. At the cafe in town, I first found Aureli and was shortly after surprised by the turning up of the kids. I thought they split up and were behind, but they managed to surprise me, so I found my walking buddies for the rest of the day and enjoyed the early 20s deep, almost ridiculous conversations once again, what a treat. Shortly before arriving at my goal for the day, Castrojeriz, we came across the ruins of the old monastery and pilgrim hospital San Anton which was a magnificent sight. Today, there is an albergue in the part that still had a roof. The ruins featured altars and showed the original size and layout of the monastery. In Castrojeriz I went to the grocery store to save some money on supper and lunch before laying in bed, icing my shin and watching some movies with the free wifi. As I was doing my laundry at the outdoor patio sink to the music of a Dutchman's guitar tunes, Chantal came walking by. I couldn't believe what I saw at first, she ended up walking 10km yesterday after all and added another 30km to it today, which really impacted all the progress she made on her knee. I don't think she'll be able to walk the same distance as me tomorrow, but we're planning to start out together for olden day's sake. I did eventually make it to laying down with an ice pack on my leg, staring at my phone when a massive thunder shook me off the phone. It was time to get up and bring in the still soaked laundry before it received its second round of washing by Mother Nature. The Dutchman with the guitar was there again, playing songs about rain and sun as pilgrims carried in portable drying racks and took laundry off the clotheslines. "Here comes the sun" to the rumbling thunder while unclipping socks has something spirit raising, but it unfortunately doesn't help dry socks for the morning. Eventually back to lying down, the ice pack warmed up enough to go back into the freezer first though. After a good nap and some extra rest, I went to check the laundry. The communal dinner was slowly coming to an end on the covered patio addition as I made my way through to my socks and other clothes that were put back outside on the portable drying rack, though the lack of sun and wind in the small, enclosed outside patio area didn't help much, so me and another person decided to put it outside the wall in the parking lot behind the albergue. That works! The laundry still didn't entirely dry until bedtime, but it did enough that hanging it on nails and such around my bed did the trick. As the communal meal finished, one pilgrim brought out a guitar and the crowd of weary travellers began to sing for hours; wine in hand we joyfully shouted along to country road and other classics.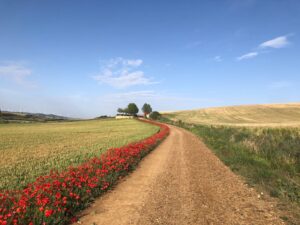 Given the 11 km to the next town, and the fact that Chantal preferred a later start I opted to get the breakfast, which was an all you can eat buffet. As we indulged, my conversation with a Belgian turned into friendly banter about beers and whether German or Belgian was superior. A younger German man from Berlin didn't seem to get the friendly, teasing nature of our debate and marched up against the Belgian with arguments that were ill prepared and quickly torn apart. The atmosphere changed and it was time for me to leave. Chantal and I both sent our bags ahead with a transport service to give our bodies opportunity to heal, what a difference! The difficult and painful hike turned into an almost pain free walk in the sun. The scenery was awesome, the weather perfect and my walking buddie's pace in tune with mine. Almost right out of the gate we climbed a massive hill, expecting to walk on a plateau for a while after, but no, a few steps after the incline it went right back down again with several warnings about the steepness of the descent. On our way up, Mark from Saskatchewan came down towards us, perplexed I asked him why he was going back. He started in his sandals and forgot his shoes back in town. After the initial hill, the trail guided us through flat farmland, with only two towns for stops along 20km and the need to drink a lot due to the sun burning down, finding suitable bathroom stops became quite the challenge, especially for women. The prairie type landscape is supposed to stay with us for a while as well. On the walk, with my little red bag in hand I thought about what I actually needed. Most albergues offered blankets, it was unlikely that I was going to camp since I'm way too tired for that way too early, and my body really enjoyed the lack of weight… a purge of equipment is on the horizon at the next post office, which could take a while. About halfway through the days journey we came across a stone building that reminded us of a crypt, possibly a large chapel, in fact however, it was an old pilgrim's hospital turned into an albergue with a few beds with black and scarlet red bedding. The scarlet red can be found quite a bid throughout the small building made up of one large room. I was a little sad about how early it still was since staying here with dinner by candlelight under the Templar Standards. Crossing the massive roman bridge after the ancient hospital I turned around to see Mark again. A cyclist pilgrim, or bicigrino, enquired why he was walking away from Santiago; it isn't uncommon to do the reverse Camino, but Mark was fortunate that the cyclist noticed his distress, and basically won the kindness lottery when the cyclist offered to ride back to town to grab Mark's shoes for him. That way he was able to catch up to us. Finding lavender along the trail, I finally picked some, squished and kneaded it for a while and rubbed it on legs and knees for the calming effect it is supposed to have on aches and pains. After 20km I bid farewell to Chantal who was staying in the village we encountered while I had another 5km to the town of Fromista. The trail was wonderful along the Castilian Canal until it crossed over the waterway where it turned into a locks like cascading feature into the town of Fromista. The town is quite nice with more cafés than inhabitants by the looks of it. Currently, I'm writing the last words of this week's update while resting in my bed with an elevated leg while listening to the trailer of tonight's program, couple snoring out of tune and rhythm. 14 days and 350 km down!
Update 2 – May 17 – 23, 2023:
May 17: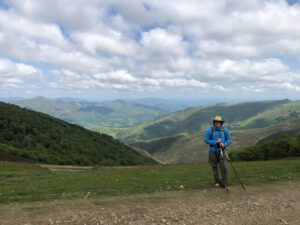 The walk began with a steep climb out of the small town of Spain Jean Pied de Port, though the weather was nothing short of perfect. Being cool, and mostly sunny, the views were amazing. I began early and had the pleasure of being alone for the first bit, walking with a sunrise greeting me from beyond the hills to the side. I quickly shed the sandals I brought for walking and was able to do the walk barefoot, though the end, a steep decline on a rocky path did not feel too good, it was difficult to not smile all the way. The steep hills and mountains are mostly bare and often dotted with free-roaming horses, sheep, and cattle. The larger animals often carry bells around their necks, and the noises produced by their swinging necks became a familiar sound along the trail and somewhat the soundtrack of the day. I finished off the day with a pilgrims meal supper consisting of a pasta appetizer, trout and potato entree, and a dessert cake, all served with a bottle of wine, followed by a mass at the magnificent Roncesvalles Church where pilgrims get a blessing bestowed upon them.
May 18: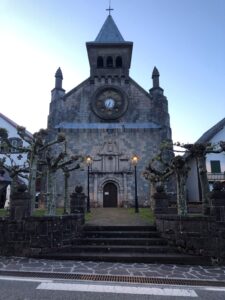 I took off quite early today, my bunk neighbour's noise got me to wake up without a chance of falling back asleep, so I managed to be out, walking in the dark just before 5.45. I had managed to cross a few villages in solitude by the time I found an open cafe to have breakfast at for others to catch up, though not too many streamed past, and mostly solitude besides a few shorter conversations would be the theme of the day. As I carried a banana peel with me for several kilometres due to a long time it needs to break down, and the amount of pilgrims walking each day, I came to think about the saying "What if everyone did that?" in regards to picking up litter, and thought that it may be better suited as "and what if no one else does it?", given that the former, common saying requires reliance on others; if everyone picks up the litter there would be none, but can we really rely on everyone to do it? The second phrase may be more encouraging since it implies that there is an impact if only you do it; if no one picks up this piece of litter it will continue to be there, though I have the power to make an impact by taking it. 
A blister developing on my foot kept me from continuing the walk barefoot today, since I was worried about an infection after popping it, but the sandals worked well until the continuous downhill sections lead the straps to bruise the foot a little. However, it wasn't bad enough to keep me from continuing after reaching the most common ending town for day two since I got there a little early, a great choice as it turned out since the addition of over 5km to 27km for the day lead me to some friends I made the day before with whom I'm staying at a great Albergue with warm showers, good food and comfortable beds.
May 19: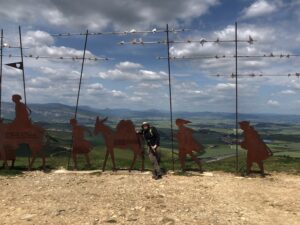 Today, my two new Camino friends, Will and Victor from England and the Netherlands respectively decided that we would trek the 32km to Urtega, only stopping briefly in Pamplona. The aim was to get off the regular pilgrim stop schedule. At some point Victor asked Will why he is walking the Camino and the answer "It's just good to get out of Britain" left the Dutch, and me, a German in tears from laughter. In the tiny village of Zabaldika we took a short break early in the morning, the lack of coffee so far this morning was beginning to wear and while we planned to walk until a good coffee stop, a need for a break came before the cafe. So there we sat, three men in their 20s and 30s sitting on a tiny wooden bench, slowly starting to notice two trail markers going in opposite directions. Some research later we found out that the trail to the right was the original, and the one to the left was a newer option. We decided to obviously go the proper traditional way, so up we got, turned right, saw the hill said "nope" in unison and off we went the other way down the hill. The joke's on us, we had to climb the hill eventually further down the way.
Arriving in Pamplona, we opted to buy some ingredients at a grocery store to make sandwiches and soon after we sat shoulder to shoulder building our lunches on a bench surrounded by pigeons, one of which was one-legged. Not being city people, we didn't stick around in Pamplona for long, just had a coffee with cookie at the Pamplona Cookie Cafe on a nice plaza with outdoor seating and I visited an outdoor gear store to replace a piece on my walking stick. The chatty shopkeeper tied me up for a bit until Victor stuck his head in and uninhibitedly asked if all was ok, that ended up being enough for my release and we kept pushing on. We knew that a steep climb was coming up but couldn't believe that we would still scale the giant hill in sight that day. Feet aching, we gradually made it to the silhouettes telling the history of pilgrim generations. A strong wind waited to greet but the sun shining down made for a very comfortable break there. As soon as we began the descent on the other side of the hill, the wind stopped and the air became hot and moist. An incredible change in climate from one step to another. The view of Urtega, our goal in the distance and the trail winding through to hills far away for the next day lifted spirits. I saved listening to music for this tough part of a tough day, and listening to Bohemian Rhapsody helped me almost painlessly skipping down the steep path covered by large rocks. What an end to a day's walk! We rewarded ourselves for our feat with beers and laundry which was paid for by helping move a fridge at the Albergue. Not sure we were the right men for the job. One thing I am surprised about is how fast and well my Spanish came back. Being the only one of our trio who knows any Spanish at all, I guess much of it was born out of necessity.
May 20: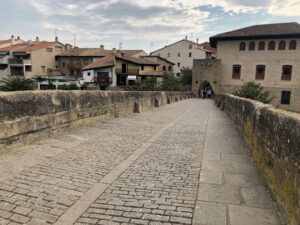 We were lucky to just be avoided by rainy clouds in the morning. Overall, having had no rain in the first four days seems to be quite a lucky streak! As the days walk went on, it became apparent that it would become a bit more painful than the others before. My knee said hello, another blister developed and my left foot swelled a bit, the proper pilgrim experience. The initial idea of walking 20km first and then decide if we should do an extra 5km to Villatuerta eventually turned into a 29km hike to the city of Estella. My body was officially done by the end. After a shower and a call home I went into town to meet up with my friends Victor and Will for some Paella. I was very surprised be the huge party everywhere in town, people dressed in red and white were singing, shouting and laughing everywhere – not celebrating Canada despite the colours as we later found out. A huge stage was put up in the town square and we eventually came to the conclusion that there is no place to have dinner, so after the scouting attempt we went to the grocery store to make pasta with lots of meat and vegetables and buy beer, wine, and gummi bears of course.
On our way back to our albergue we walked down a narrow pedestrian street that was boarded up at almost every intersection and those that weren't were about to. Clueless we moved on to be eventually approached by a lady of the tourism office notifying us that they will soon release the bulls to chase maniacs down this narrow, boarded-up path and that we aren't allowed to run because we were wearing sandals. I'm also pretty sure that we were hanging on to our lives too much to be allowed to partake. Neither of us was aware that towns other than Pamplona had such an event and we got out of there as soon as we could. With our painfully empty stomachs and crowds approaching we also ended up prioritizing cooking over watching the potentially bloody spectacle and ethically questionable spectacle.
The meal ended up fantastic and the drinks were great, a Spaniard engaged with us in conversation though I didn't partake much trying to keep my head from accelerating into the plate in front of me from pure exhaustion. The conversation became a theatrical hand-and-foot communication show I ended up enjoying. As I eventually got up and excused myself, I was surprised with my Spanish and informed the Iberian that my two friends kept me around for my Spanish skills and forced me to push on to Estrella this day like slave drivers with Walk on! chants, but also that I was off my translation work for the moment due to reaching the end of my mental capacity. I confessed the contents of the private Spanish conversation for a good laugh and went off to bed.
May 21: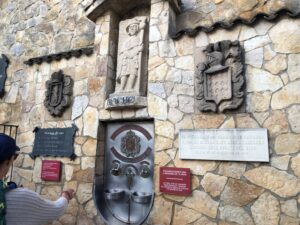 The day unfolded to become another longer, 28 km day, but much less painful than the last. Not long after the start we came across a blacksmith who makes all kinds of trinkets and items. Victor told us a story he saw on YouTube about him forging a piece to fix a pilgrim's backpack free of charge. A few steps past his smithy we came across the famous wine fountain. The trail has little taps to refill a water bottle every few kilometres, this one, however, was no ordinary refill station since it had two taps, one for water and one for wine. Yes, pilgrims can fill up bottles of wine free of charge! Other pilgrims that is since the tap was turned off on a Sunday Morning at 7.30 am… maybe for the better, and with decent bottles of wine going for 2 euros at the grocery store not a big loss either. At some point, I came across a woman around 60 years of age sitting on a bench next to the trail in between towns. A police car pulled up as I got there and since there was a language barrier, I offered to translate. It was all wrapped up in a minute and the lady was taken to her next accommodation for the night. She had called emergency services since she wasn't able to continue due to her knee hurting too much. I, myself found a little shortcut on a map I was keen to take. There would be two turn-offs to get to it and I was aiming for the second which turned out to have become overgrown… not keen on going back to the first turn-off since that had been a bit ago, I just stuck with the regular route.
At Los Arcos, the town I initially thought I'd stay at, being 20 km from our start, I still felt good and upon meeting the others decided to push on after them. First, however, it was time for some amazing deep-fried pockets stuffed with potato, cheese, peppers and who knows what. Followed by a sandwich and a Snickers ice cream bar and accompanied by a beer.
Before embarking to the Camino, I decided to make it my mission to pick up garbage reasonably close to the trail, but since picking up all of it would require me to get a wheelbarrow, I'm sticking to mostly wrappers and cans. Today my commitment was tested when I found a heavy grocery bag full of garbage 5 km from the last town in the middle of nowhere. My knee was not impressed, but I was absolutely not able to just keep on walking. Going back to the tragedy of the commons, I was thinking that if no one else picks it up the garbage would just accumulate until we have to wade through it. That seemed unacceptable and encouraged me to do my part. If instead I thought "if everyone else also picked it up we would not have any garbage anywhere" I might have thought about how that would never happen anyway, so I might as well not bother reaching for that lofty goal. 
At the end of today's walk, there were two towns about one kilometre apart from each other. A ver steep kilometre at that. I advocated for finding a spot at the first town since the next day would be short enough as it is at around 20 km, but was outvoted by the other two who wanted to go to the farther town. To be fair, that one has pools. So the others walked ahead and I crawled on a bit behind as usual. Eventually getting to the second town, I called the others over the internet only to learn that they stayed in the first town, Sansol. I, sitting in Torres del Rio looked up at the outskirts of Sansol towering above and made a decision to not go back up and instead stay down in my little town for the night. Pools aren't open yet though unfortunately.  However, the Spanish man from the night before whom I surprised with my language skills happens to stay at the same place as me again. He enthusiastically greeted me and immediately needed to know where my non-Spanish speaking friends were. I told him the story, we had another good laugh and he assured me that if there's anything I need I just need to ask. Great! I should ask him to make less noise than yesterday when he goes to bed. 
Supper was a pilgrims menu at a quite nice restaurant, we got to choose from a variety of appetizers including salads, soups, asparagus, pasta and more, as well as one of quite a few entrees which mostly varied in choice of protein, pork, beef, chicken, fish, etc. Desert was also a choice between some puddings and flans. I had a great meal with great conversations on our multinational table.
May 22:
At the first stop of the day, a small food kiosk in the middle of nowhere set up for pilgrims, I met Manuel from the Philippines again. We had a great chat the day before when we learned about our shared name. I sat down with him and another man from Germany. After some talking it turned out that this man's name was Hans, which coincidentally is my middle name. I don't really meet people with either name too often, but there we were sitting at a table, Manuel, Hans, and Manuel Hans, 5 km from any civilization in Navarra, Spain.
A little later I also met Dan again, an IT specialist from Romania who left the city, bought a property on a mountain and built a container house. Now, it is very common for people on the Camino to share food, drink, medication, anything really, but especially sweets, so I wasn't thinking much when Dan handed me a cookie. Oh boy, I got higher than the day I crossed the Pyrenees… I parted ways with him at a shoe store at the first town to look at some of the pairs they had but made the call that this was not the right moment to make a > $100 investment that could make or break the whole trip. So I pushed on after a bit. I was in a zone and really, really hungry, so I made a quick break for the stop of my "rest day" of only 20km, the city of Logrono.
Needless to say, I got to my destination quite early, at 11am where I was greeted by an ambulance. The paramedics brought a lady who seemed to be doing ok out on a stretcher. The accommodation was great and I didn't have to wait long for Victor and Will to arrive at the city. They decided to take on the next stretch of 12.5km so we had our goodbye meal in our traditional way, with food from the grocery store eaten at the park. I had a half-sized baguette, a pack of sliced prosciutto, a small box of sushi, a bag of gummi bears, two chocolate bars, and a beer, while the others bought a full-sized, wide baguette each. Will's also had some seeds on it. They then decorated them with meat cuts as well and as we sat there inhaling mountains of food, we became the park's biggest attraction. People would laugh and make comments and shout encouragements for the walks ahead. What a meal! My two friends also revealed that they had begun to correlate Camino personas to Lord of the Rings characters, and while they bestowed upon themselves the roles of Frodo (Victor, because he's annoying and screws everything up – his words) and Sam (Will), they saw in me Gandalf the grey, who was just about to stay behind to ward off evil to someday return. Great, now I have to figure out how to catch up to them again?! I guess I could return with a beaming light on the horizon as Gandalf the White in an Uber with high beams flashing.
May 23: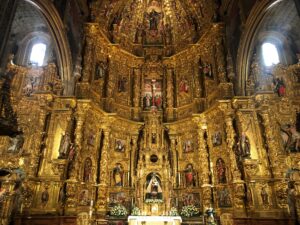 I was exhausted when getting up this morning. Everything hurt, including teeth, probably since they've been working overtime the last week as well. A Tylenol did wonders though! Maybe they should consider the pilgrim as a pharmaceuticals mascot.
In the next town over, 12 km along the trail, a German who stayed with me in the same room in Logrono was sitting at a cafe. I asked if he would like some company and he invited me to sit down. As I began a conversation he began staring at his phone and ignoring me. Maybe it's because the soccer team Herta Berlin, whose label is portrayed on his hat sits in last place and is being relegated.
After that awkward exchange I made my way into the adjacent church to light a candle, I as not prepared for the magnificence of it, especially since Navarete, the town it is in, isn't very big. Behind and around the altar towers a golden wall with pictures, statues and engravings from floor to ceiling. Each corner of it could rival most churches I had been to before. I was humbled and the images carried with me for a while on the walk after.
16 more contemplative kilometres later, I got to Najera. The town seemed to be moving further and further away as I approached it, and all I wanted by the time I got there was a large, cold beer. Mission accomplished. From here I had to decide if I wanted to stop at the 28km mark or push for another 5 to 6 km. The choice to push on to make this the longest stretch covered in a day so far almost became a big mistake. Arriving in the town of Azofra I was informed that the only Albergue was full, but the person behind the counter kept talking about another Albergue. I couldn't find one on any of my resources and approached him again. After some more conversing and a little shock for me it turned out that the Albergue had an overflow building I could stay in. That was just as good as any other place I had been and the Albergue itself has a small wading pool. At the time of me writing this, I'm sitting by that pool, feet cooling down in the water, a beer in hand, and the sun above. A week in and it's not a bad Pilgrimage so far.
Update 1 – May 16, 2023: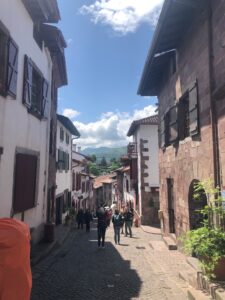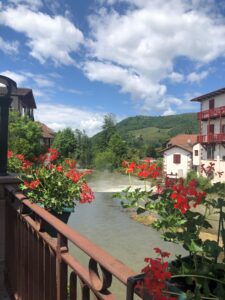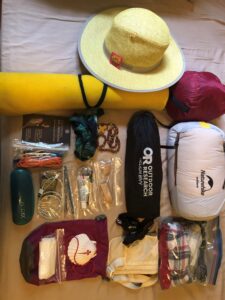 The build-up to this pilgrimage didn't exactly go down smoothly. In an almost spur of the moment decision one day in early March, I booked my plane tickets to France near the Spanish border to walk the Camino de Santiago. At that point, I wasn't sure which of the nearby routes I would take, the Camino del Norte, or northern route which runs along the coast, or the more travelled, most common route, the Camino Frances. What I did know was that I needed guidance and had the intention of finding answers as to what it is I want to move towards next, now that I was just about to finish my studies at University. Eventually it became clear that I would walk the French route, a decision that was cemented by this collaboration with the Inn. It felt more suiting and the layout lends itself for inner reflection. As luck may have it, my future fell into place before the walk – more time to focus on past reflection, I guess! As May drew closer, a hamstring issue I had lingering with me for almost a year suddenly decided to turn from a rare tug to a daily nuisance. As April came and went, the issue became worse, but with the help of physiotherapy and daily muscle-building exercises, it may just have become dealt with enough – time will tell.
Another pressing concern was the choice of footwear. Over the last two months I bought somewhere around 10 pairs of shoes to find the right one. Due to the limited offerings in Sarnia, I either drove to London, ordered them online, or had them ordered by local businesses. The last two pairs seemed the most difficult to decide between. Both were hyped by former pilgrims and seemed the optimal choices for the trail. With $200 price tags they really had to be perfect. But they weren't. Over many I switched the pairs, walking up and down the hallway in my house to figure out which would be best. Listening more to the chatter on forums than my gut, I postponed the inevitable. I was done shoe shopping and done with uncertainty, so I didn't want to hear it, the truth that I didn't want to see, none of them work for my feet. I have always had trouble with finding comfortable shoes, and that hasn't changed apparently. In a last ditch effort to find THE shoe, I drove to London four days before departure with the intention of going to a store for high-end trail runners to have my Cinderella moment, but stopped at a different store for hiking shoes first, just to see. I prefer trail runners for their lightweight and quick-dry attributes, so I didn't really consider hiking shoes too much, but who knows. I did what I should have done long before, turned that brain off and went with my gut. And there you go! Out I walked with a solution that would definitely work. No need for the extra stop at the other store, because in my hand I held a well-reduced-in-price pair of Teva Sandals. Naturally, I wouldn't plan on walking the entire trail in Sandals, they are intended to be put on when barefoot walking gets too rough – that is at least how a former Filipino pilgrim went about. How viable this is without training may become evident when I'm scrambling for a pair of shoes in the city of Pamplona on day 3. Another tough decision I faced was weather to bring my bivy, a kind of miniature tent that barely fits a sleeping bag and a thin foam mat since an inflatable thermorest would definitely add too much weight. Even in this constellation I'll be carrying another 500g, but it allows me to stay flexible, and I really wanted to sleep out under the stars on some clear nights, so I opted to take them with me. The thought of having to check where to stay the night before and make a reservation also just seemed to counter intuitive to me, but is said to become more and more important as beds along the Camino fill up.   For now, I'm enjoying the day before, talking to pilgrims who are starting and those who have many kilometres on their boots, the mountain of tomorrow in sight and anticipation building. The images show what I packed minus a rain poncho and a pocket knife which I bought upon arrival.
The Journey Begins: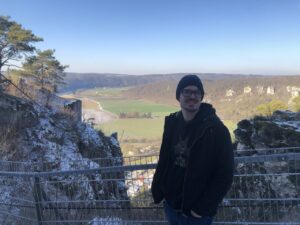 ---
---
My name is Manuel Spiller, I have decided to embark on the pilgrimage to Santiago de Compostela. It has been calling me for a mental and physical health check-up, and now that I have the time and financial means, I feel compelled to answer its call. I also find myself wondering where my education and experiences will take me next, and I believe that the Camino could offer me the guidance I seek. This pilgrimage route, the Camino, has gained a reputation for helping individuals invoke or find change. The reasons for this vary depending on who you ask. Some attribute the Camino's transformational powers to a sense of magic, while others point to more tangible factors.
Pilgrims who have walked the route from Saint Jean Pied de Port to Santiago de Compostela often describe the journey as taking them through three distinct phases. The first phase is physical, during which walkers must test their resilience to pain and discomfort as they cross the Pyrenees mountains and adapt to the daily routine of long-distance walking. The second phase is mental, as they traverse the flat plateau of Meseta with little to distract them, and confront themselves day after day. The final phase is spiritual, during which walkers can use the insights gained from their physical and mental trials to aid in personal transformation or discovery as the trail winds through hilly landscapes into the province of Galicia.
I believe that these phases of the Camino cannot be replicated in our day-to-day lives. There is a sense of freedom in the pilgrimage's routine of walking, eating, and sleeping. This is a different kind of freedom from what we typically associate with the word. Instead of the freedom of choice, that implies a lack of rules and regulations, the Camino offers the freedom we relate to children, who are free to focus on themselves and not worry about making decisions. It forces the pilgrim to have faith, and sacrifice control.
As I planned my upcoming walk and read about the potential challenge of finding available accommodations after a day's journey, my thoughts turned to the broader community. I have always sought to make the most of any opportunity, and given the Inn's mission, it seemed only natural to me to reach out to The Inn of The Good Shepherd.