Financial Donations
The generosity of the community enables The Inn to help thousands of people. The Inn of The Good Shepherd is a registered Canadian charity and we are pleased to be able to provide a tax receipt for all financial donations.
Charitable Tax Registration Number: 13131 2092 RR0001
Whether its focusing on purchasing food items, getting those bulk purchase deals, helping that family stay housed with Rent/Utility assistance, or providing school supplies to children – your financial donation allows The Inn to help in so many ways!
You can also donate by mail or over the phone, here's how…
By mail – mail your cheque to: The Inn – 115 John St., Sarnia, ON N7T 2Z1
Why not join the 'post-dated' club and send in a quantity of post-dated cheques that will be deposited according to your wishes?
By phone – call The Inn at (519) 344-1746 x301 to make a VISA or Master Card donation.
By e-transfer – through on-line banking, we can accept an e-transfer at the following email address: accounting@theinnsarnia.ca.  Please include your mailing address in the comments box to receive an income tax receipt.
Clothing & Household Items
When you are struggling to pay bills and put food on your table, even a few bucks for clothing at a thrift store can be too much!
The Genesis program relies on the generosity of the community in donating gently used items. While The Inn doesn't have the capacity to handle and store large furniture items on a regular basis, we may pre-arrange larger items if we have a client in need for specific items.
Most needed Genesis items:
Clothing
Linens & bedding
Small kitchen appliances
Dishes & cutlery
Clothing donations can be dropped off at 115 John Street between 8:30 am and 4:30 pm Monday to Friday or 950 Confederation anytime.
Most needed Food Bank items:
Cereal
School Snacks
Juice Boxes
Large Soups & Stews
Canned Fruit
Peanut butter
Jams
Kraft Dinner
Dish Soap
Sugar
Coffee
toilet paper
eggs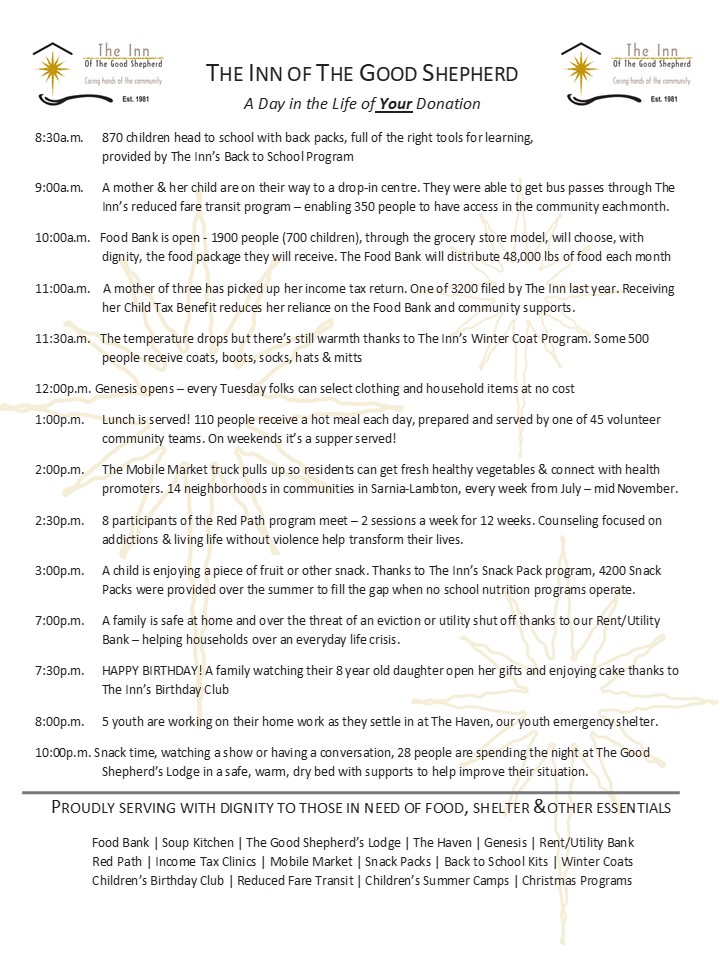 Food Donations
Thank you for joining in the fight against hunger. Your food donations go right to the plates of families and individuals who are struggling. Every month, the food bank will distribute over 40,000 lbs of food to some 800 households – that's 1800 hundred people – 750 of which are children.
The Inn's food bank is designed using a grocery store model where clients are given points based on the size of their household and they can 'spend' those points to select the food they need. Not only does this treat our shoppers with dignity and respect but it reinforces the life skill of grocery shopping on a budget and greatly reduces waste, as folks are getting the food they need and can use.
Food items can be dropped off at the following locations:
– The Inn – 115 John St – between 8:30 am & 4:30pm, Monday to Friday
– The Lodge – 950 Confederation St – anytime
– Firehalls (during the Christmas, Easter and Thanksgiving food drives)
The Inn has collection barrels at several grocery stores which are picked up regularly. Many donors find if very convenient to be able to place a few items in the barrel on their weekly shopping visit!
We are very happy to receive fresh and frozen items such as milk, meat, fruit & vegetables etc. For health reasons, they would have to be dropped off directly at The Inn at 115 John St.
Interested in running a food drive at work, at school or in your neighbourhood? Contact our Food Bank Coordinator at (519) 344-1746 x316. We can help provide a collection barrel and signage!
Thank you! For allowing The Inn to be your caring hands in the community!